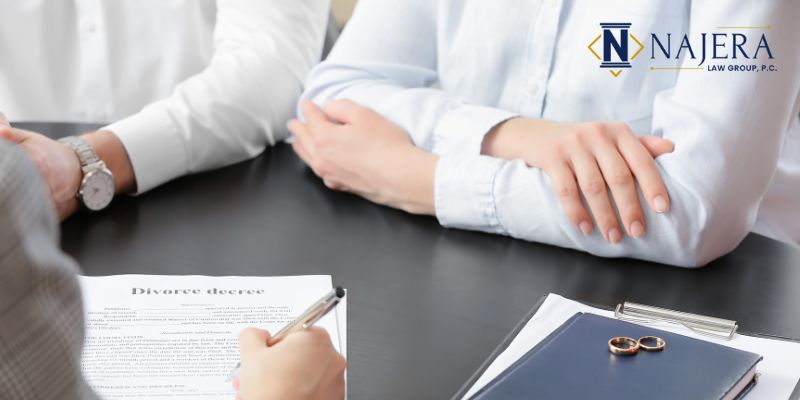 Family Law
Lake Elsinore, CA Family Law Attorney
Family law is a complicated subsection of our legal system. It can become even more complex when issues like restraining orders or domestic violence are involved. Family law can also be highly contentious and emotional due to the issues involved, such as dividing up marital property and deciding custody and support matters. Sometimes the very bonds between ourselves and our closest family members, such as our children, are at stake. For most people, nothing could possibly be more important than protecting their family. When we are put in a situation where we must head to family court, having professional legal representation is essential.
This is why the knowledgeable family law team at Najera Law Group, P.C., has dedicated themselves to helping the people of Lake Elsinore and the surrounding areas. Our firm can help you get through any divorce, prenuptial agreement, child custody, child support, or other sensitive family law matter. By partnering with an experienced attorney, you can alleviate some of the stress of family court. We can develop an ideal legal strategy to protect you, your family, your assets, and your future.
California Family Law at a Glance
There are many possible reasons why you might need a family law attorney in Lake Elsinore. Family law cases are actually rather commonplace. The state of California takes a serious interest in the well-being of minor children and ensuring that divorcees are treated fairly in the divorce process.
Here are a few fundamental facts about the role the family law courts play in the state of California:
The California Superior Court has jurisdiction over family law matters. This includes divorce, child custody, child support, spousal support, and property division. It also handles adjacent criminal matters such as domestic violence.
Many family law cases in California are successfully resolved through mediation. This is a process where a neutral third party, such as a trusted attorney, helps the two parties (e.g., a divorcing couple) reach a mutually agreeable settlement. This can save time and court costs. It also gives you and your former partner more direct control over what happens to your family and marital property.
In California, the court is bound by law to determine child custody matters based on what is most beneficial for the child. This will involve evaluating several different factors. These include the child's needs, interests, current standard of living, and relationship with each parent. Additionally, the court will examine each parent's financial situation, lifestyle, and relevant criminal background.
For divorce cases, California is a community property state. This means that most property acquired by either spouse during the marriage will be considered community property by the court. It will therefore be subject to equal division between the parties. Certain exceptions apply.
California's legal system has a robust mechanism to calculate and award spousal support, sometimes known as alimony. This is typically ordered in divorce cases where one spouse earns significantly more than the other. It may also be ordered if one spouse has been out of the workforce for an extended period. An example would be a stay-at-home mom who has no income of her own at the time of the divorce.
What a California Family Law Attorney Can Offer You
Family law is an extremely multi-faceted area of law. It can often become even more complex when it intersects with other areas of the law like finance, estate planning, and even criminal law. Many times, domestic violence or child abuse issues are relevant to a divorce or custody hearing. This means a Lake Elsinore, CA, family law attorney might work on any number of different projects from day to day.
Some of the matters the family law professionals at Najera Law Group, P.C., can help you with include:
Quality Consultations: Some discount law firms offer one-size-fits-all packages for simple family law issues or document preparation. Others try to get away with a quick phone call or Zoom meeting before representing their client in court. This can be a recipe for disaster where complex family law issues are concerned. We believe one of the core functions of a lawyer is regularly meeting with clients to discuss their legal issues and provide advice and guidance. We strive to honor the principles of our trade by making ourselves available to you.
Legal Research: No matter what sort of case they are working on, a big part of any lawyer's job will be conducting legal research on family law statutes. Finding precedents in other cases can help an attorney build the strongest possible legal strategy for their clients.
Going to Court: This process begins long before your court date. Your attorney may be gathering evidence, drafting and filing legal documents, and preparing strong arguments for court hearings. Attending court hearings and arguing on behalf of clients is actually the very end of a long process of preparation.
Referrals and Extended Support: If you have additional legal matters beyond the scope of our offerings, or need other resources related to your major life changes, we have connections and great working relationships throughout all areas of the community. That goes beyond the court system and our fellow Riverside attorneys. Our reputation as a reliable family law firm is not just due to nearly 20 years of success practicing law. It is because we give equal focus to the "family" aspect of family law. That means we do not simply show up on your court date and file your paperwork for you. We are here to ensure you make it through this trying time with the most optimal outcome. Our firm can help find creative, proactive solutions to whatever challenges you face in this life transition.
Negotiations, Mediation, and Settlements: A good lawyer is also prepared to work outside of the courtroom. They can negotiate with other parties or their attorneys to reach a settlement that is most beneficial for their client. In issues like divorce, a family law attorney can also act as a mediator and help you reach agreements in private sessions outside of court. Successful mediation can give you more control over divorce terms and minimize time spent before a judge. It can also reduce the amount of your estate and your family's fate that will be left to that judge's discretion.
FAQs About Lake Elsinore, CA Family Law
Q: How much do family lawyers cost in California?
The cost of hiring an attorney will vary based on many factors, such as:
The city you are in
The amount of work involved
The complexity of your case
The quality of your attorney
Ideally, you should find an attorney you are interested in working with. Once you do, contact them with the details of your case. Ask for a quote so that you have a clear understanding of the fees involved. Keep in mind that there may also be court filing fees separate from attorney fees in many family law cases.
Why do I need a family lawyer in California?
It is important to work with a qualified family law attorney. Family law, like any branch of law, can be complex and overwhelming for those who lack the necessary legal training. You are legally allowed to process your own divorce. However, it is also possible to make critical mistakes that can cost you a massive amount of money. One error can even prevent you from seeing your children.
Do I need a lawyer for child support in California?
You have the legal right to represent yourself in court cases—including family law cases. However, child support is a serious matter that can have major implications for both your finances and the well-being of your child. For this reason, it is highly advisable to work with the top family law team at Najera Law Group, P.C., when heading into court for a child support hearing.
What is a wife entitled to in a divorce in California?
California is a "community property" state. This means that marital property is to be divided equally when a marriage ends. This means that the gender of the spouses has no bearing on how the court makes its orders. Husbands and wives have equal rights in California divorces, as do plaintiffs and defendants. When pursuing a divorce in California, a wife is entitled to fair treatment under the law, the same as a husband.
Najera Law Group, P.C. – Your Trusted Family Law Team for Lake Elsinore, CA, and Beyond
If you have a family law issue and need the services of a talented legal team, Najera Law Group, P.C., is here for you. From our Riverside offices, we serve the people of Lake Elsinore and all surrounding areas with professionalism, confidentiality, and compassion. We know that any family law case means you are going through a difficult and stressful time in your life. Our firm will treat this situation with the care and gravity it deserves. When times are at their most difficult, let Najera Law Group, P.C., guide you to the optimal outcome for you, your family, and your future. Contact us today for a no-pressure consultation.