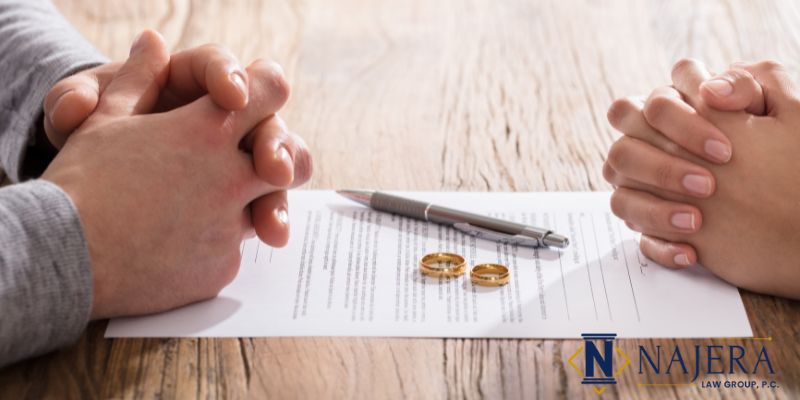 Divorce
Lake Elsinore Divorce Attorney
Deciding to get a divorce is a hard choice to make, and with it come many more difficult choices. Divorces affect the future and well-being of you and your family. They also involve many highly emotional processes. This includes property division and child custody, which can become contentious. Working with a divorce attorney in Lake Elsinore, California, can provide you with the support and counsel you need.
Your Lake Elsinore Divorce Lawyers
Your divorce needs effective legal handling and compassionate attorneys who understand the difficulty you are facing. Any family law issue can have immense effects on your life, and that of your loved ones, and divorces are particularly hard. At Najera Law Group, P.C., we have more than 19 years of experience representing those in family law cases.
California Divorce Requirements
To get a divorce in the state of California, you have to meet the state residency requirements. These are:
At least one spouse has been living in California for six months prior to filing for divorce.
At least one spouse must have been a resident of the county the divorce is being filed in for at least three months.
If you or your spouse do not meet these requirements, you cannot file for divorce. Additionally, a divorce in this state can only be finalized after you and your spouse have completed a six-month waiting period. Even if you and your spouse agree on all aspects of the divorce, you both must wait six months after the divorce papers are served before the divorce is complete.
California is a no-fault divorce state. This means that you are not required to give a justification or reason for the divorce by blaming one party for the issues. Instead, the grounds for a divorce in California are mental incapacity and irreconcilable differences.
Contested Divorces
A contested divorce occurs when you and your spouse are unable to reach an agreement about the divorce. One party may not want a divorce, while the other does. Perhaps they do not agree on essential aspects of the divorce, like property division, spousal support, or child custody. Ideally, parties will go through mediation prior to taking the divorce to court. You and your spouse can negotiate with skilled attorneys to try to reach a compromise.
If your contested divorce must be settled in court, it will be significantly more expensive and stressful. It will also take longer. It is necessary for some divorces to be settled through litigation. If yours does as well, you will want an experienced attorney advocating for your interests.
Uncontested Divorces
An uncontested divorce happens when you and your spouse can agree on aspects of your divorce. You may not even need to have it finalized in court. This is faster, less costly, and less stressful for both parties and their families. It also allows you more control over the outcome of your divorce. Attorneys can help ensure the terms of the divorce are fair.
The Benefits of Working with a Divorce Attorney
There are many intricate legal matters that need to be addressed throughout a divorce. Making mistakes in the divorce process can be time-consuming and frustrating. Working with a divorce attorney can ensure that everything is taken care of. A divorce lawyer can also protect your interests throughout contested and uncontested divorces. During the division of property and child custody, it is essential that your needs are represented.
If your divorce goes to court, the sooner you begin working with a family lawyer, the better for your case. This gives your attorney time to create effective advocacy for you and your interests. They can also ensure that the court does not listen to only your spouse's wishes. When you work with an attorney from the beginning of your divorce, you can have an effective defense.
Essential Aspects of Divorce
Legal representation can help during potentially contentious aspects of your divorce, such as:
Division of community property
Implementation of prenuptial or postnuptial agreements
Child custody, visitation, and support
Determination of spousal support
The experienced family law and divorce attorneys of Najera Law Group, P.C., can protect your needs in negotiation or in court.
FAQs About Lake Elsinore, CA Family Law
How Much Are Attorney Fees for Divorce in California?
Divorce attorneys often charge an hourly rate. This ranges anywhere from $200 to $500 an hour. Hourly fees differ based on where the attorney is located, their experience level, your type of case, and how complex the case is. Complex cases will also take longer and therefore be more expensive. Always discuss fees with a potential attorney to ensure you can afford legal representation throughout your divorce.
What Is a Wife Entitled to in a Divorce in California?
A wife in a California divorce is entitled to half the community property during property division, the same as any couple in divorce. Child support, child custody, and spousal support are not given based on gender. Instead, they are determined by other factors such as income and the child's interests. If a wife receives full custody, she can receive a certain percentage of her spouse's income. This amount depends on income, length of the marriage, number of children, and other factors.
How Do I Choose a Divorce Lawyer in California?
You want to find an attorney with experience who will care about your situation. Do research on lawyers near you, and ask people you trust for their experience with attorneys. Look for a divorce attorney who has plenty of experience with your type of case. Working with an attorney in your local area is useful, as your attorney will have a professional relationship with the judge. Talk with potential attorneys and ensure you feel comfortable with them. Your divorce will have an effect on your family and life, and you want it to be in good hands.
How Long Does a Divorce Take in California?
The minimum time a divorce takes is six months because of California's six-month waiting period for a divorce. If you and your spouse agree on divorce terms, you can get an uncontested divorce, which is faster and less expensive. However, if you and your spouse have disagreements, they must be resolved either through mediation or litigation. In that situation, a divorce could take months or years.
Effective Representation in Your Divorce
Najera Law Group, P.C. provides compassionate and reliable representation during the tumultuous time of divorce. If you need advocacy and support for your Lake Elsinore divorce, contact our firm today to see how we can help.