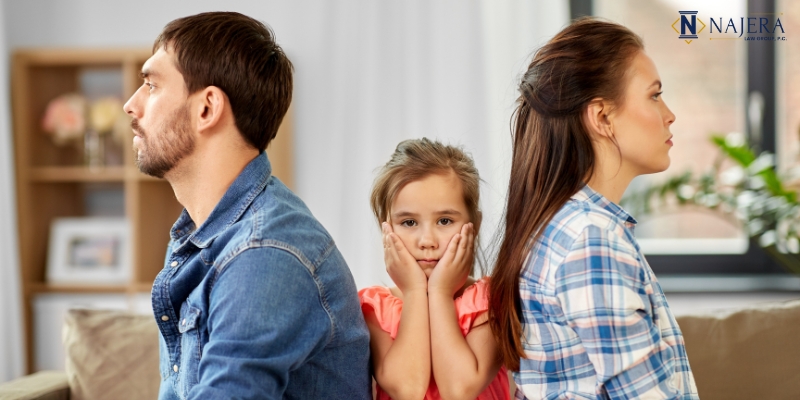 Divorce
Riverside Divorce Attorney
Making the decision to end a marriage is rarely easy and often extremely emotional. Between dividing property, determining alimony, and making child custody agreements, the process can seem daunting to anyone who is thinking about legally separating. Hiring an experienced divorce attorney, like Najera Law Group, P.C. is vital for any divorce case. With the help of an expert in family law matters, you can trust that you will be supported throughout your separation and that your legal issues will be handled properly.
Your Riverside Divorce Lawyer: Najera Law Group, P.C.
Family law issues can become complicated quickly, especially when they involve couples separating. At Najera Law Group, P.C., we understand how challenging divorces can be, which is why we are committed to helping our clients through even the toughest situations. With almost two decades of experience representing individuals across California, Najera Law Group, P.C. is prepared to use their knowledge of the law to represent you throughout your case and offer the advice and support you deserve throughout the process. If you are initiating a divorce in Riverside, CA it is best to get the legal representation you need by working with experts in family law matters.
How Does the Divorce Process Work in California?
Many people looking to get divorced in California are unsure of how the legal process works. At Najera Law Group, P.C., we can assist you through the legal aspects of the process and ensure you follow each step properly. The average divorce process in California is as follows:
Make Sure You're Eligible: Before filing a petition for a divorce, you need to make sure that you are eligible for one in the state of California. California is a no-fault state, meaning divorces don't have to be justified by the individuals who request them. To be eligible, one spouse has to have been living in California for a minimum of 6 months. In addition to this, one spouse must have also lived in the county they are filing for divorce for a minimum of three months.
File Divorce Petition: After determining your eligibility, you can then begin the divorce process by filing a petition with your local court. To file, you'll be given paperwork to fill out that requires basic information about your finances, assets, and more. It is important that you are honest and clear about all of your property or this can affect the divorce process later on. When you finish your petition and are ready to turn it in, you'll have to pay a fee of $435 to file it.
Serve Spouse Papers and Wait for a Response: Once you have filed your divorce petition, you must then serve your spouse with valid papers. In California, the one who files for divorce first is known as the petitioner and the spouse that responds to the petition is known as the respondent. Because this is a formal part of the divorce process, you can only serve your spouse in one of the legally approved methods the state provides. One of the most popular methods used is serving your spouse through a certified mailing organization, but you can also hire a professional server, your county sheriff, or an adult over the age of 18 that is not a part of your divorce case, to serve your spouse.
Come to Agreements on Separation Details: After your spouse has been served, California allows them 30 days to respond to your petition with the correct paperwork. If they do not respond within the allotted time frame, the court may make a default judgment for them and they may not be able to address their concerns on different issues within the divorce. If your spouse does respond in a timely manner, you can then begin the process of coming to agreements on issues such as property division, child support and child custody, alimony, and more. This can be done in multiple ways, depending on whether or not the divorce is contested. Mediation, collaborative divorce, and divorce litigation can all be used to make determinations in regard to your divorce matters.
Obtain Final Judgement and Finalize Divorce: Once all decisions have been made on financial, property, and custody matters, the divorce can then enter its final stages. A judge will go over all of the details of your divorce, including ensuring the petition was filed and served properly, double-checking that property division is fair, and making sure everything was done legally. After they have verified that everything is valid, the judge will make a final divorce judgment and the process will then be finalized.
Contested Vs. Uncontested Divorce
A divorce in California can either be uncontested or contested. If a divorce is uncontested, this means that the couple was able to come to agreements regarding their separation without having to go to court. In most uncontested divorces, the couple may not even need to attend court to finalize their divorce. A contested divorce, on the other hand, occurs when a couple is unable to come to decisions on their own and they need the help of a judge to come to final agreements. Contested divorces often take longer to finalize because there are multiple court dates that occur throughout the process.
The Advantages of Working with a Riverside Divorce Lawyer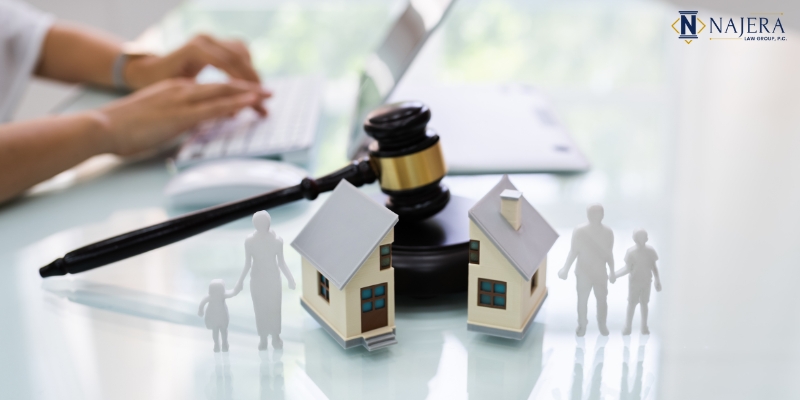 The divorce process can be difficult for anyone, which is why having an expert lawyer can help make the process much easier for those involved. Just a few of the advantages that come along with working with our team at Najera Law Group, P.C., include:
Ensure All Legal Matters Are Addressed
Divorces involve a wide range of small, important details that all must be addressed properly in order to finalize the separation. By working with an experienced team like Najera Law Group, P.C., you can trust that all critical matters of your divorce will be taken care of properly and legally. From making sure you serve your spouse correctly to assisting in coming to agreements on child support, our team can help you through the legal process of your divorce.
Protect Your Interests
Our team is also dedicated to protecting the interests of our clients. As someone who is getting a divorce, it can be worrisome to know you may get into disputes over property, assets, or even custody issues. By working with our team, we can make sure that your voice is heard throughout your separation and we'll work to protect what's important to you.
Represent You in Court
If you're going through a contested divorce, you may find yourself in the courtroom quite a bit. Luckily, Najera Law Group, P.C. has years of experience representing clients in court and can use negotiation skills to ensure your interests are made known. They are not only aware of the laws regarding your divorce, but also of sneaky divorce tactics other parties may try to use.
FAQs About Riverside, CA Divorce Law
Do You Need a Lawyer for a Divorce in California?
If your divorce is uncontested, you are not required to hire a divorce lawyer, but many people still do to ensure the process goes smoothly. When a divorce is contested, on the other hand, you will need an experienced attorney to assist you.
How Long Until a Divorce is Finalized in California?
On average, most divorce proceedings in California take at least 6 months to become finalized.
Who Can File for Divorce in California?
Any eligible party can file for divorce in California as long as they meet the residency requirements of the state and their county. One spouse must have resided in California for at least 6 months and one spouse has to have lived in the county they are filing in for a minimum of 3 months.
How Is Property Divided in a Divorce in California?
California is a community property state, so everything that was acquired throughout the marriage is considered "community" or owned equally by each partner. As a result, assets and property must be divided fairly among each spouse when a divorce occurs.
How Is Alimony Determined During a Divorce in CA?
While spousal support is not required in every divorce, it can be given to one spouse for a certain period of time if they prove they need financial assistance to continue living a comfortable life. The court will determine alimony payments by using details such as both spouses' incomes and other financial aspects of their lives.
Riverside Divorce Representation
When it comes to getting divorced, working with an attorney you can trust can make a considerable difference in the overall process. At the Najera Law Group, P.C, our team is committed to assisting each one of our clients through their divorce with compassionate support and legal representation. If you're going through a divorce in Riverside, CA, and are looking for legal assistance that you can count on, don't hesitate to contact our team today to learn more about how we may be able to help you.